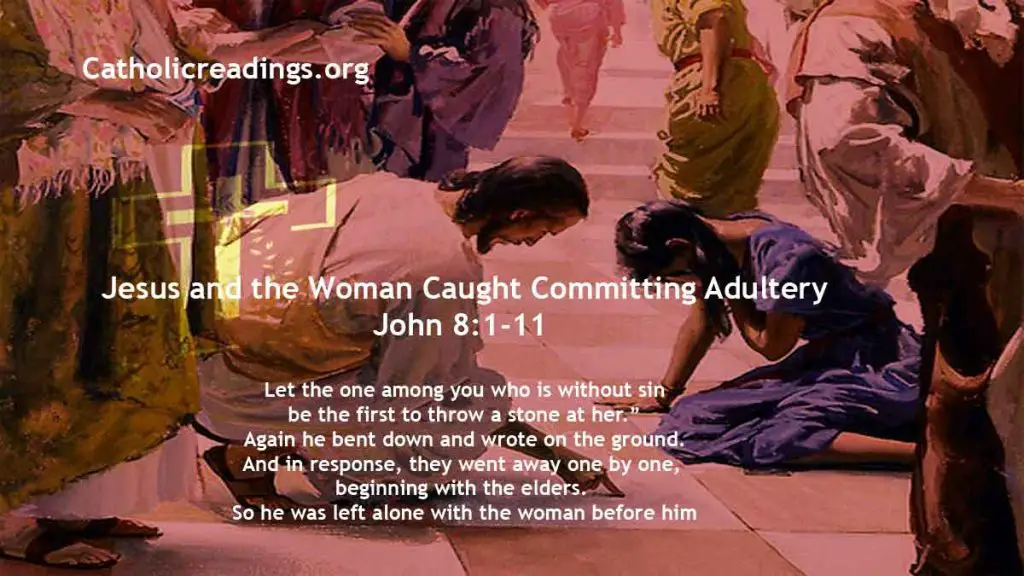 Sunday Mass Readings for April 3 2022, Fifth Sunday of Lent, Year C

1st Reading

Isaiah 43:16-21

Responsorial Psalm

Psalms 126:1-2, 2-3, 4-5, 6

2nd Reading

Philippians 3:8-14

Verse Before the Gospel

Joel 2:12-13

Gospel

John 8:1-11
HOLY WEEK ARRANGEMENTS
Sat 9th April
Penitential Service 12-12.45pm
1pm Mass
6.30pm Vigil
Palm Sunday 10th April
Masses at the usual times
Sunday 9.30am & 12.30pm
Mon 11th April & Wed 13th April
10am Mass

Holy Thursday 14th April
11am Mass of Chrism in St Peter's
(webcam https://stpetersbelfast.ie)
7.00pm Mass of the Lord's Supper followed by Adoration
10pm Night Prayer of the Church

Good Friday 15th April
3.00pm The Lord's Passion
7.00pm Stations of the Cross

Holy Saturday 16th April
8.00pm Easter Vigil Mass

Easter Sunday 17th April
Masses: 9.30am and 12.30pm
Easter Week
Daily Mass: 10.00am Mon, Wed, Thurs &Fri.
& 1.00pm Saturday
ALL MASSES CAN BE VIEWED LIVE ON OUR PARISH WEBCAM www.stagnesbelfast.com.
COLLECTION The weekly collection for the 27th March amounted to £1660.00. Collection for Needy Parishes £480. Thank you for your contribution. You can make your envelope contribution via the donate button on the Parish website home page as well.
SPECIAL COLLECTION FOR UKRAINE An amazing amount was collected for Ukraine last weekend. The collection total came to £11,890!! and there is still more money coming in. Thank you all so much for your kind generosity.
Face Coverings The Diocese strongly recommends that face coverings be worn at all times while in the church and throughout liturgical celebrations, even when seated.
PARISH WEEKLY ENVELOPES The new envelopes are now available to be collected from the church. ( Main doors) If you are not on the list and would like a box of Parish envelopes please contact the Sacristy or Kate in the Parish Office ( 90615702)
TROCAIRE BOXES are now available at the entrances to the Church; please take one home with you.
First Holy Communion will be on Friday 20th May 2022 at 10.30am and 12.30pm.
RECORDINGS Please note, all funerals and Masses are recorded. Please tell us if you do not want your loved one's funeral recorded.
MASS INTENTIONS
6.30pm Vigil: Ciaran Lavery ( Months Mind)
Sun 3rd April: 9.30am: Kathleen Monaghan ( Months Mind),
Mary & James Dobbin, David Hughes
12.30pm: Cecilia Kearney ( Months Mind)
Marie Foley, Colette Reynolds, Patrick Mc Cafferty, Roseanne Donnelly, Sally O' Gorman
Mon 4th April:10am: Priest's intention
Tue 5th April : 10am: NO MASS
Wed 6th April: 10am: Priest's intention
Thurs 7th April:10am: Priest's intention
Fri 8th April :10am: Priest's intention
7pm: Stations of the Cross
Sat 9th April:1pm: John Smyth
Confessions 12-12.45pm before the 1pm Mass
Recently Deceased: Catherine Donaghy
Those whose anniversaries occur at this time: Patricia & James Maxwell, & sons Jim & Kieran, Tony Gilmore, Doris Robinson, Hugh Pollock, Sue O'Neill, Rosaleen , Hilary & Robert Cummings, Dermot Mulholland.
SYNODAL LISTENING IN OUR PASTORAL COMMUNITY. In order to journey together, Pope Francis wants every person to take their place at the heart of the Church and to hear every voice and the voice of the Holy Spirit. Our local parishes are encouraged to come together, pray together, and enter into a Spiritual Conversation about our Church at this time. Bishop Treanor has encouraged each area of the Diocese to have a time of coming together as part of the Synod. Coming together to listen and share helps us build flourishing and resilient communities for the mission of the Church today. We invite you to come along and take part in the synod by listening and talking to one another in an authentic, meaningful, and welcoming way. If you would like to take part in this synodal moment then please feel welcome to join us on Palm Sunday, 10th April from 3pm-5pm in the Hannahstown Community Centre. The session will be facilitated by the Living Church office.
Accord is recruiting interested people to assist in the provision of Marriage Preparation Programmes. Application forms are available by contacting info@accordni.com. Selections will take place in June of this year with training commencing in September. This year Accord is celebrating 60 years supporting couples and families. Please contact us for any support you may need www.accordni.com.
HSC NI Foster Care is urgently appealing for more foster carers and supported lodgings hosts who can provide homes to young refugees who arrive in Northern Ireland without a parent or carer. For more information on becoming a foster carer or supported lodgings host, contact HSC NI Foster Care on 0800 0720 137 or visit adoptionandfostercare.hscni.net/young-refugees/
LENTEN PIONEER PLEDGE Why not take this opportunity to perhaps help yourself or someone you know with an alcohol or drug problem by offering your sacrifice for freedom from addiction? Please consider taking the short-term Lenten Pledge and make a difference to someone's life and say the following daily prayer; " I promise in honour of the Sacred Heart of Jesus and with the help of the Blessed Virgin Mary to abstain from all alcoholic drink during Lent."
DOWN and CONNOR DIOCESAN TRUST
SAFEGUARDING OFFICE
SUPPORT PERSON
[SERVICE PROVIDER AGREEMENT]
Down and Connor Diocesan Trust are seeking to establish a Panel of individuals who will
be engaged in the role of 'Support Person' attached to the Diocesan Safeguarding
Team. As a Panel Member you will be required to provide emotional and practical
support for a victim and survivor during the period after their disclosure. and to keep
them informed of the progress of the case.
It is envisaged that the structure of this work will be on a sessional basis.
We are keen to attract individuals with previous experience of providing support to
vulnerable adults at point of crisis, and who can demonstrate an understanding of
current Safeguarding issues and the dynamics, impact, and scale of abuse.
People who might make suitable Support Persons could come from a range of
backgrounds and life experiences. The main consideration is that they have the right
talents and personal attributes. The Support Person role can be a combination of
pastoral care, support and reassurance for victims and survivors. Consequently, the
Support Person's value-base, their compassionate nature and attunement skills will be
important attributes in successfully undertaking this role.
As a Support Person you will not be an employee of the Diocesan Trust but will be
engaged on a Service Provider arrangement. Remuneration for hours of engagement
will be on an hourly rate basis.
If interested in exploring this opportunity further, details to include Registration of Interest
form, Role Profile and General information document are available on the Diocesan
website at https://www.downandconnor.org/job-vacancies/
Closing date for Registration of Interest will be 12.00 noon on Friday 29th April 2022