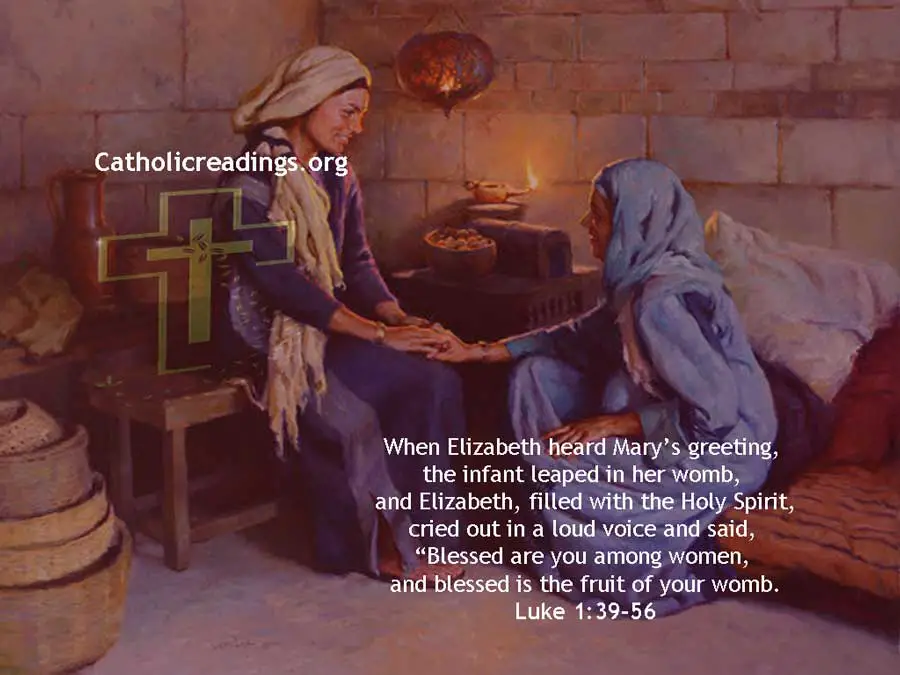 Pause for Thought
"Mary set out and went as quickly as she could," to meet her cousin Elizabeth. We hear of Mary going out of her way and how she is driven by desire to meet Elizabeth. Mary wants to share her joy with Elizabeth. Mary also want to see with her own eyes the blessings that God has shared with her cousin. This advent Gospel is perhaps the most beautiful reflection of two cousins catching up with one another. We have all missed the catching up with our extended family during this Pandemic. Think of the family members that you have missed being with. Think of the homes that you haven't been able to visit. This year, like Mary, we might find ourselves going into the homes of our relatives and greeting them. Mary carried in her womb, Jesus Christ, the Word made Flesh. May we carry with us the Joy of Jesus, the Word made flesh in our hearts as we visit our family and friends this Christmas. Take time to reflect on the messages of hope, love, joy and peace that you want to bring with you.
 CHRISTMAS MASSES
As the capacity of our Church continues to be limited by social distancing requirements, unfortunately this year again it will not be possible to accommodate the larger numbers wishing to attend Mass at Christmas. We urge you to carefully consider whether or not you should attend Mass this Christmas, particularly if you are in a vulnerable group. All Masses will be broadcast live via webcam , and we encourage you to participate online. There will be 2 Vigil Masses this year on Christmas eve 

5pm & 8pm

 but please be aware that these Masses are subject to change due to the current situation. Please be advised that after St Agnes' reaches its 

(180)

 seating capacity at these Masses the doors will unfortunately be closed. Thank you in advance for your understanding and co-operation on these matters.
Christmas Mass times 2021
at St Agnes'
Christmas Eve Masses: 10am, 5pm & 8pm
Christmas Day Masses: 9.30am & 12 Noon
Sunday 26th December: 9.30am and 12.30pm
COLLECTION The weekly collection for the 12th December amounted to £1547.00 Thank you for your contribution. You can make your envelope contribution via the donate button on the Parish website home page as well.
PARISH WEBCAM Live streaming of all Masses takes place in a St. Agnes' Church.  Please  click on the webcam tile on the Home Page of the Parish website www.stagnesbelfast.com.
RECORDINGS 
Please note, all funerals will be recorded. Please tell us if you do not want your loved one's funeral recorded.
COVID 19

 

We wish to remind you that masks are still mandatory when entering and leaving the church and we would strongly advise and encourage that for your own safety you  adhere to this and to social distancing. Thank you.
PRAYER INTENTIONS: We extend our sympathies to the families of those who died recently and those whose month's mind and anniversary occur at this time.
 Sat 18th Dec:6.30pm Vigil: ( Months Mind)  Martin Walsh
Maura Mc Cartan, Grace Kemp, Colin Canning, Anne Mc Manus
Sun 19th Dec: 9.30am: James Ginley
12.30pm: (Months Mind ) Brian Compston 
Mon 20th Dec: 10am: Alfie Love 
Tue 21st Dec: 10am: NO MASS
Wed 22nd Dec: 10am: Margaret & William Burgoyne & family
Thurs 23rd Dec:10am: Gerry Mc Allister
Fri 24th Dec: 10am: CHRISTMAS EVE  Peter Tohill, Martin Morgan
Christmas Eve Vigil's & Christmas Day: Priest's own intentions
For further Mass times over Christmas & New Year please refer to our Parish Christmas Card
In the event of a funeral, the assigned intention will be offered privately by the priest at his first available mass.
Those whose anniversaries occur at this time: Margaret Hernan, Eamonn Friel, Michael & Martin Darragh & Mairead Donnelly, Jack & Bridget Mc Cusker, Annie Simpson, Samuel Scott, Deceased members of the Mulholland family, Sean & Tommy & Doris Robinson, Matthew Morrison, Gerard Mc Alister, Gabriel Davey, Brendan Barber, Isabella Reid, Hugh & Mets Mc Evoy, John & Kathleen Cassidy, Fr Placid Mc Laughlin, Sarah Laurie, James Ginley.
Eternal rest grant unto them , O Lord!
SVDP Wish to thank all the parishioners of St Agnes for their very generous response a total of £1880.00 was collected. A special thanks and a Happy Christmas to all our volunteers.
CLEANER REQUIRED To clean our Church one day a week (Tue). If you have an hour to spare please call into the Church any Tuesday between 12pm & 1pm or ring the Parish Office on 02890 615702
CHRISTMAS CARD St Agnes' Christmas card with all Christmas arrangements is now available for you to take home.
 CONGRATULATIONS To Megan Connor P7B Holy Child Primary School who won the competition to design the front cover of our Christmas Card. Well Done to her!!
PENITENTIAL SERVICES AND CONFESSIONS IN OUR PASTORAL
COMMUNITY   HAVE  BEEN  CANCELLED FOLLOWING DIRECTIONS FROM THE BISHOP