Parish News…
As stated last week, due to personal circumstances, public Masses will start in St Agnes' Parish in a few weeks time.  As further details become available, they will be posted on the Parish Website and – where possible – in Church Door notices.
Recent information about Lough Derg and an online Diocesan Lourdes Pilgrimage can be read below.
THE PUBLIC CELEBRATION OF MASS AND THE SACRAMENTS On Thursday 25th June, the NI Executive granted permission for Churches to re-open for worship, for the celebration of Mass and the Sacraments. As a Parish we must observe all health and safety regulations, guidelines and risk management including social distancing. This is to ensure the safety and well-being of all our parishioners and to mitigate against the transmission of the virus which is still present in the community. We will not be opening our Church for public worship until all these directives are put in place. For this to be implemented we need volunteers to assist with stewarding and cleaning the Churches each time Mass or the Sacraments are celebrated. If you wish to volunteer, please contact the Parish Office by email
(st.agnes.belfast@gmail.com)
and leave your name and contact number. It's important that we all rise to this challenge and be generous with our time so that our Churches can re-open for public worship.
The other Parishes of the  West Belfast Pastoral Community opened their Churches for the celebration of public Mass during the week beginning Monday 6 July 2020.

Remember in Prayer…
 Teresa Johnson …  whose anniversary occurs at this time
Lough Derg Lakeshore and Ancient Pilgrim Path reopens for visitors.
Walk & Pray the Ancient Pilgrim Path with the Prior on
Saturday 18th & Sunday 19th July.
Guided Contemplative Walk begins at noon…
approx. 4hr, 12k moderate loop.
Booking essential, full details …


www.loughderg.org

or email

info@loughderg.org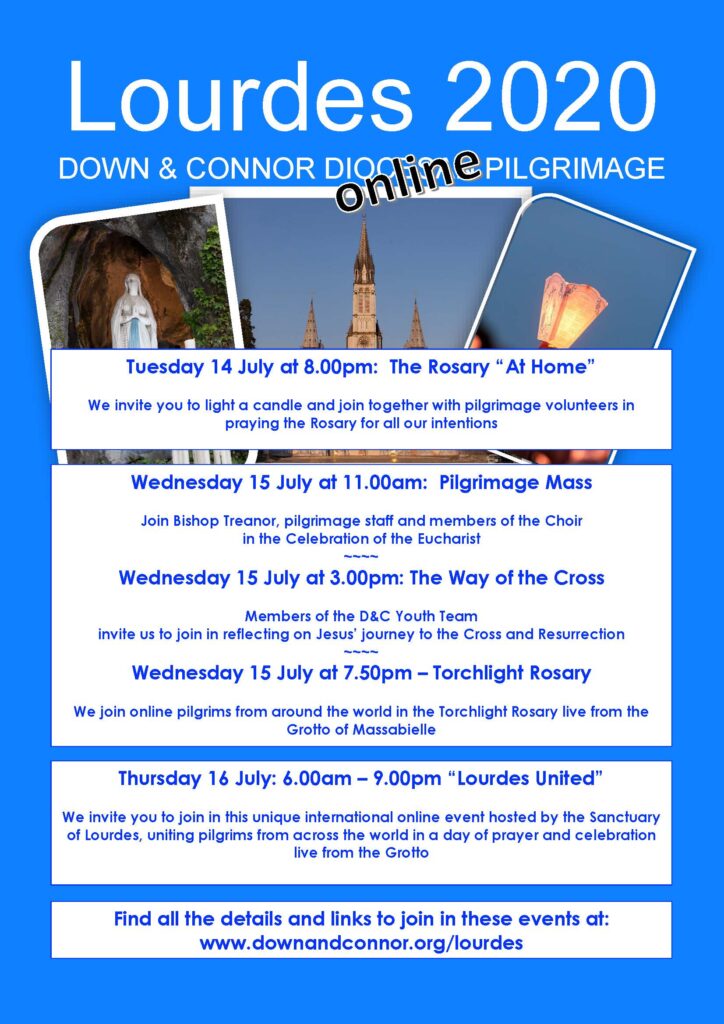 ST. PATRICK'S WAY - A new Camino-style pilgrim walk, St Patrick's Way, is being launched in Downpatrick from July 1st. New pilgrim guides, Martina Purdy and Elaine Kelly, will in turn lead pilgrims on the journey which includes Inch Abbey, Saul Church, the site of St Patrick's first church in Ireland, Slieve Patrick and the national monument, Struell Wells, and St Patrick's Grave. The BBC's Donna Traynor will walk a second 8 mile route with guides and pilgrims in Newcastle on July 4. Bookings for all or part of the walk, and details available at St. Patrick's Centre, Downpatrick on 028 44 619 000.